how we reduce our environmental impact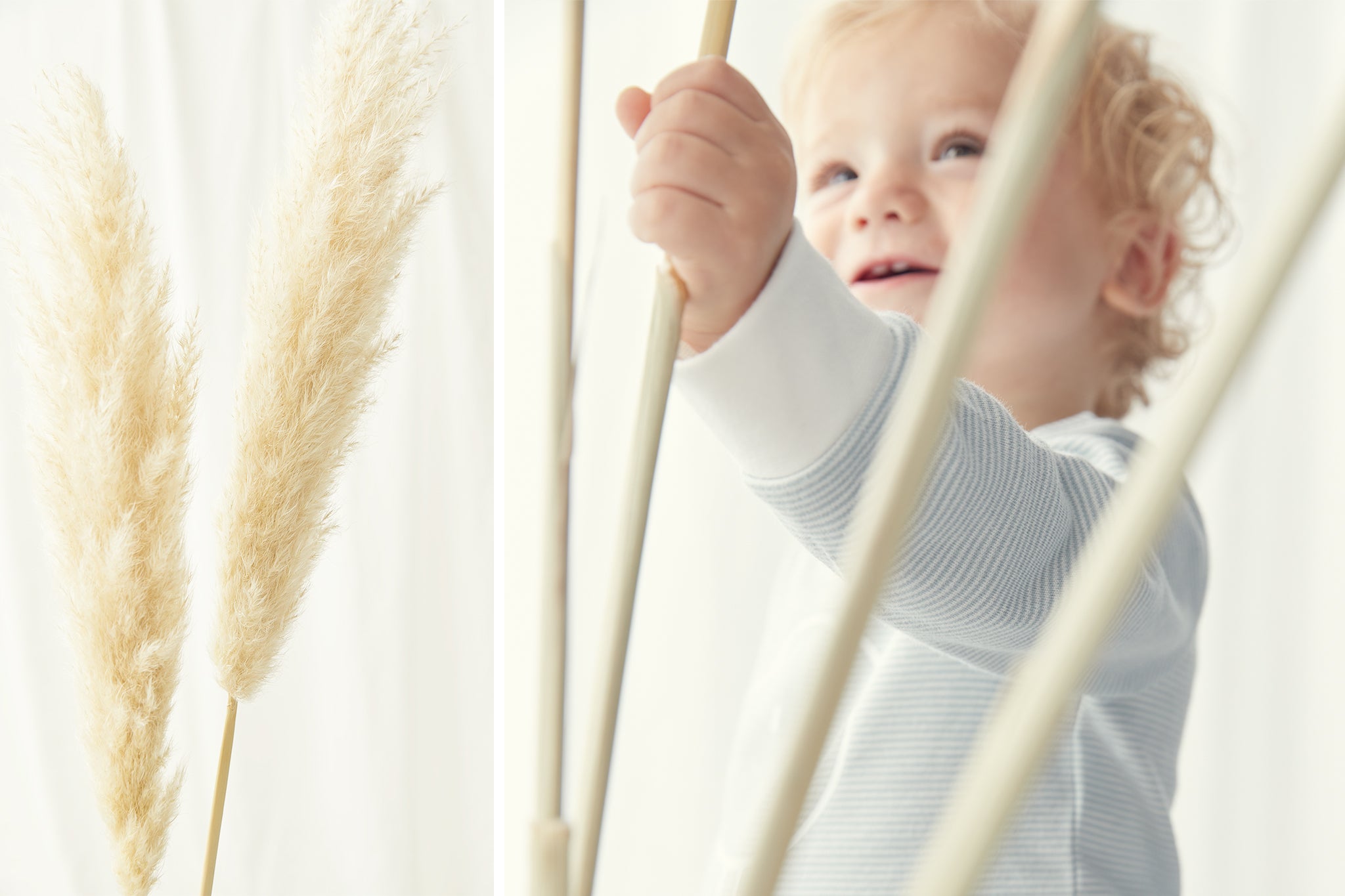 a considered design process
All of our products are designed to be the highest-quality, long-lasting and worn, washed and passed on again and again. 
At every stage of design and development, we focus on creating something that little ones will love wearing and parents will feel confident dressing them in. Working with our suppliers, who you can learn more about here, we then handpick the best materials to provide longevity, comfort and of course, softness. 
This process ensures that every MORI product from idea to reality is defined by the smallest environmental footprint and made proudly by our partners who are treated fairly and with respect. 
a gentle touch from sustainable fabrics
In order to make ethical baby clothing, we embrace fabric innovation meaning everything we create is as environmentally friendly as possible. All of our yarns are chosen with great research and care so that they work best for the product whilst having a low impact on the planet. 
We are always looking for more sustainable ways to source the fabrics we use and find new materials that fit our core values. Here are some of the favourites we use today:
the softest signature fabric ever
A unique blend of 30% organic cotton & 70% bamboo, our signature fabric is used across MORI to create our sleepwear, daywear and accessories
The fabric is easy to care for, sustainable and gentle on a baby or toddler's sensitive skin. 
Step 1 - dried cotton & bamboo 
Our bamboo is a highly sustainable resource grown in China & our organic cotton comes from Turkey, which is GMO-free & supports sustainable development programmes for workers. 
Step 2 - bamboo cotton pulp
In the environmentally conscious facilities of our experienced mills, the raw bamboo is crushed and the cotton is cleaned. The two ingredients are then heated with limited chemicals & water to create a pulp. The pulp is dried and separated into sheets. 
Step 3 - bamboo cotton fibre
The sheets of fibre are then mechanically combed out and spun into yarn using a spinneret. This is then wound onto bobbins ready for weaving into our softest fabric. 
why we chose organic cotton
Not only is it softer than regular cotton, but organic cotton is also grown using methods that have a low environmental impact, without harmful chemicals, pesticides or fertilisers. The farmers, millers, cutters & makers we use to source it are all treated & paid fairly, working in safe conditions so they can support their families & communities.  
why we use bamboo from viscose 
Bamboo is the fastest growing woody plant on earth, making it a natural, sustainable and renewable resource. Using closed-loop processes for our viscose, whereby no chemicals enter the waste stream, and sourcing from sustainable raw materials, our fabric is much less harmful to the planet than conventionally produced cotton or oil-based synthetics like polyester.
what makes it so sustainable?
The environmental footprint of our signature fabric is also reduced by our use of viscose in the blend, which increases the durability of the fabric & therefore the life-time of our garments. 
While many clothing brands, especially those in the activewear industry, use additional chemicals to stabilise their bamboo-based fabrics, MORI has developed its signature fabric without additional chemicals added. 
recycled nylon - the only nylon we use
Used in our swimwear range, recycled nylon is breathable, lightweight and best of all, moisture-wicking. The fabric is of high quality and designed to last so little ones can enjoy their swimwear for longer.
what makes it so sustainable?
Sadly, nylon can't be made from plastic bottles, at least, not yet. However, the REPREVE Nylon we use can be made from pre-consumer textile waste that would otherwise go to landfills. Compared to regular nylon production, REPREVE uses 80% less water to make and the process emits 90% less CO2 into our air. We believe that it is the most sustainable version out there currently and we continue to explore our options. 
modal - from tree to stress-free
Modal starts from beech trees grown in Austria's sustainable forests and finishes as our most sustainable (and still incredibly soft) fabric used to date. We have used it to make our loungewear collections for families, offering comfortable, sustainable fashion everyone will love to wear.   
what makes it so sustainable?
Created by Lenzing, our Modal comes from the pulp of beech trees, which use 10-20 times less water to grow than other sustainable sources, such as cotton. The production process is carbon-neutral and the trees need less land on which to grow. Modal fibres also wash incredibly well, making the quality product last longer. 
all wrapped up sustainably too
How we package our collections is just as important as how we make them. Therefore, we use as little packaging as possible when delivering new arrivals to you. 
Our parcel bags are made from environmentally friendly kraft paper. This renewable material is very sturdy meaning the bags can be reused and are recyclable too. Plus, all of our polybags are now 100% recycled and recyclable.
Every one of swing tags and boxes are made from recycled and recyclable materials and printed using vegetable inks.
All of our catalogues are made using recyclable paper This assures that the wood and forests the paper originates from are safeguarded for future generations. 
However, we understand that our packaging is not perfect and we're dedicated to improving the materials we use to make our deliveries more sustainable. For example, our stickers and gift packaging are currently not recyclable but we're working on getting these sorted in 2023.
the journey continues with you
At MORI, we love designing and making clothes that last, which is why we choose to produce quality over quantity. Through thoughtful and careful care from you, our products will last your little ones as long as they fit and can eventually be passed on again & again - creating a sustainable loop. 
If you'd like to know how to pass along your outgrown pieces whilst making a difference, you can learn about our partnership with the charity Little Village here.