The Home & Nursery Design Must-Have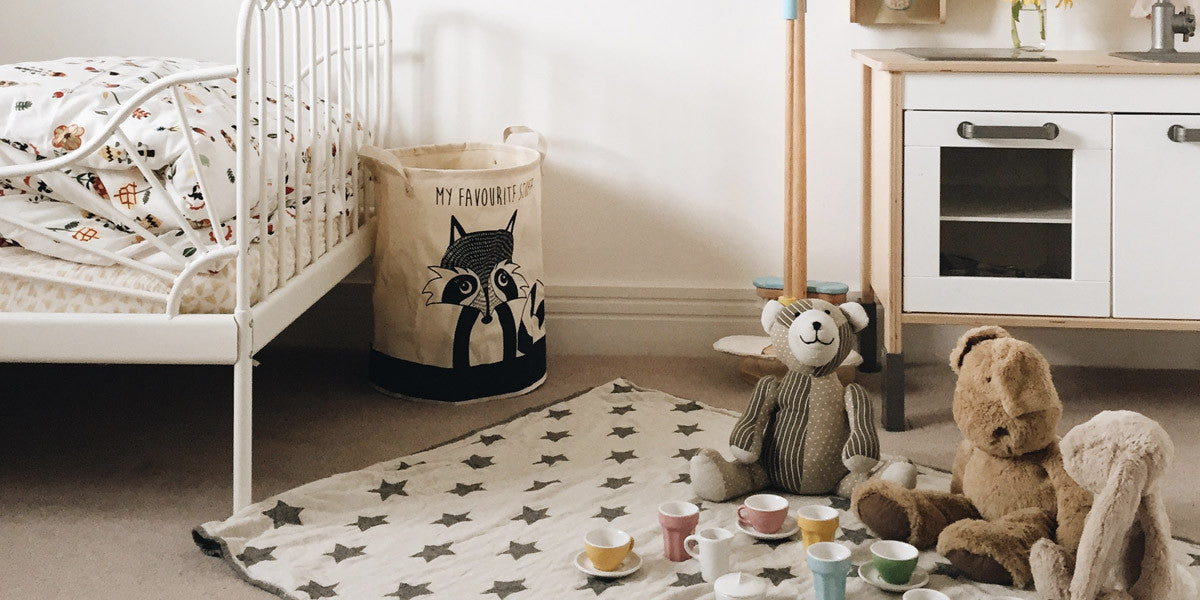 Minimalism design is the balance between simple and natural elements, combined with patterns and textures. If you get them right, you'll transform your home into a place of calming comfort, free of clutter. Inspired by Scandinavian and Japanese style, for an uncomplicated interior.
Adding a touch of Scandi to your home is easily achieved with throws and blankets. Throws truly are the most versatile accessory, with varying textures & patterns, they are the perfect finishing touch. With many throws available on the market, it's about finding ones that express your creativity and personality. Here's how you can convert your nursery, bedroom or living into minimalist heaven...
Clashing light wooden floors with dark treated furniture creates a harsh yet stylish feel. To balance this, soft tones can be added with light walls, geometric picture frames and a dash of greenery. Industrial pillows, patterned rug and the star throw create contradicting patterns for the final touch.
Scandinavian design is all about focusing on clean lines, paired with warming wood textures. This nursery encompasses the style by coupling wood features such as the clothes hanger and woven baskets, with immaculate whites including cot and throw. Little ones love a splash of colour, which has been achieved with a quirky pink bunny & triangle print wallpaper.


You don't have to be conventional and only include one throw in your home decor, as seen here. Diversity is created from complimenting a soft grey and white striped throw with a darker reversible grey star throw. Other personal touches are crafted from hanging memos and a touch of nature on each side of the bed, with an abundance of white fabrics.
When it comes to little one's nursery, it's nice to keep it minimal, but you'll also want to add an element of fun. The very simple yet playful polkadot wallpaper keeps this in mind, while keeping the overall look clean with not too many accessories in the room.


Homes like this are what dreams are made of, and seem impossible to keep when you have little ones running about. By decluttering a space you can really keep that minimal look without much effort. Always opt for a bleak base colour for walls, and furniture, as you can then add personality through the use of knitted throws, graphic-laden cushions and obscure lighting designs.

We might be a little distracted by how cute this tea party is, however, here is another perfect example of how a throw can be used in any room to add a hint of personality. Little ones love stars, and they're a universal print, so can be used in any Scandi inspired home to add some fun.
Construct a workspace that helps you to achieve your goals and clears your mind of any unneeded clutter. This beautiful studio space looks sleek and spotless, without anything to distract you from your work. The atmosphere looks cold, but with the addition of a faux fur throw (that adheres to the light colour palette), you'll soon be feeling cosy.

When it comes to sleep, the best place to hibernate is somewhere comfortable, cosy and warm. This room has been kept minimal and transformed to create a real sense of warmth through the use of subtly matched colours, mountain throw alongside the guardian mountain goat and the hint of blush pink.

Add a touch of creativity to your space with our thoughtfully crafted throws: