Inspiring Lives 17: Encouraging Each Child's Individuality & Personality with The London Dad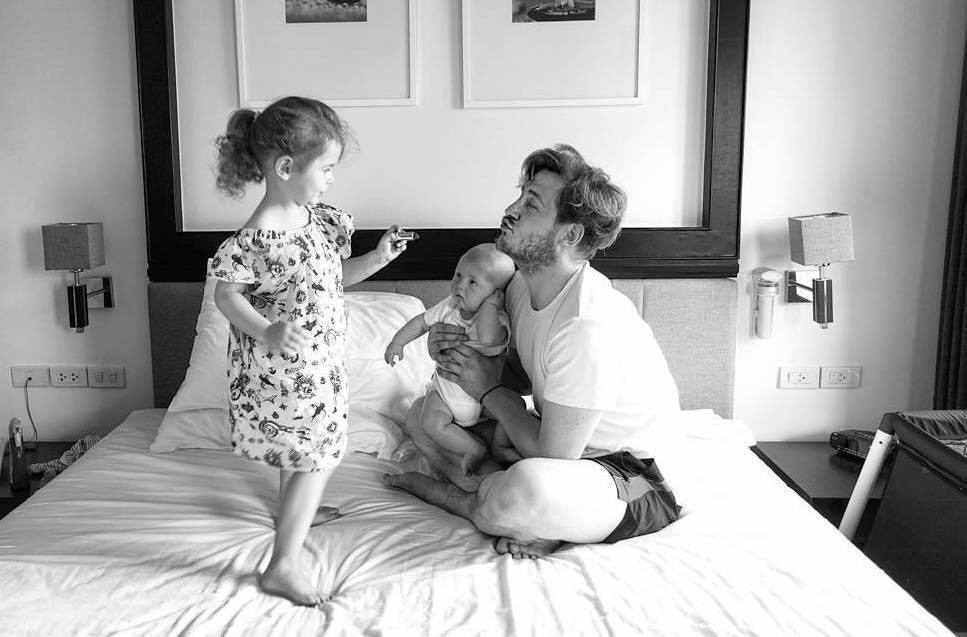 From London to Asia, and back again; travelling around the world with children to make sure they have the most cultured life is a beautiful ideal. Greg Stanton, more commonly known as The London Dad, has been documenting his lifestyle, travels & parenting for the last couple of years. With Father's day in a couple of weeks, we caught up with Greg to find out how fatherhood changed his life, made him a better man and why he's influencing his little ones to be whoever they want to be.
• Being a blogging father seems like quite a rarity, but you've gained quite the following now. What first inspired you to start blogging?

To start with it was just this life changing little human that entered my life. I was always such a lad, worked in a hugely testosterone driven environment and wasn't ready to be a father let alone be a daddy to a little girl. Then Alice puts Etta in my arms, you look at one another and life is just different, from that very first time you look into each other's eyes you know that things will never be the same again.

Within 3 months I had quit my job with no plan other than I needed to be a bigger part of Etta's life and spend more time at home. It seemed like a natural progression to start documenting our life on Instagram as I have always been a keen amateur photographer and the blog grew out of that.

• You're known as the London Dad, but it seems you now might want to change that to the Bangkok Dad. What was your decision to move to London and then move back to Bangkok?
Hahaha well I wouldn't pin another moniker onto us yet, we are very nomadic get itchy feet really easily. London has always been home and will always be our home :) That's why we moved home from Asia in the first place, we moved at 34 weeks pregnant to have our children in England, to be close to family and for our children to be born in our home town. Although the birth certificates say Tooting - St George's is probably the best delivery suite in the world.
Bangkok is just our first stop of many on what we are hoping to be an extended trip around the world. We have only been here so long as we have had so much fun and extended our stay twice. Bangkok is a hectic city but it really works with the kids, next stop is Penang Malaysia before KL and who knows where we will be by the time you are reading this.
• What differences do you feel are presented when raising children in London to a place like Singapore or Bali?

I don't really think that there are too many to be honest, sure each place has a few speed bumps but mountains can be made of molehills. The hardest issue is trusting local brands of nappies and formula when we have so much faith in our go to brands back home. That's more than made up for with the climate that pretty much allows us to be outside all day. Home schooling was what I thought would be the most problematic but it's been fun…...so far!!!

• Some parents dread going on a 4 day holiday with their children, let alone travelling full-time, how do you both manage to do it?
We both work for ourselves and from home so nothing has really changed except the location of where we are spending our days. Being a parent is the best job in the world and we get to spend every day with our kids, that also means we work every night so we don't get loads of time for one another. We plan on minimising any upheaval by staying a minimum of 7 nights in any destination. That fits in with our ethos that you don't really get to understand a country or city by passing through, you have to truly live somewhere to immerse yourself enough to understand the culture.
• What's your biggest reason for travelling with children?

We always travelled before having kids and up until this point had only made it on a plane once. Ezra was born with a heart condition that he has medication for and he is doing really well, we got some good news back from the doctors mid-April, booked a flight a week later and flew out a week after that. We wanna teach our kids that you can do and be anything in life, you just have to make it happen, even in the face of adversity.
Ezra being so sick when he was born has taught us to cherish every moment and we hope that our trip will, in turn, teach our 2 E's the same. 
• What's your biggest challenge as a father?
Ohhhh that's a good one, the biggest challenge hmmm. I would say it's the balance between what my minis want, want makes them happy and what's good for them. Some days I say no so often and think I should loosen up, some days I could say no more. People talk about consistency with parenting but there is no fun in that :)
• How did being a father change your life?
In every way possible, it changed me into the best version of myself and one that I didn't realise that I wanted to be.
Once you have children, it's often hard to find time to spend together as a couple - how do you and Alice do this?
We don't! We get the odd movie with popcorn and wine but we spend every minute of every day together so it's no biggy. It would be nice to get to take Alice out for a romantic dinner but we don't trust anyone with our kids except grandparents and they are a little far away now.
• What does fatherhood mean to you?

Fatherhood isn't about who you are, it's about who you help your children become. It's that simple. 

• You've mentioned you love MORI Sleepsuits - what about them do you like the most?

We loved them before we came away but since being in the boiling sweaty heat we have realised that bamboo cotton is the best material for helping little ones to regulate their temperature. Ezra won't sleep in anything else now and he spends a lot of time in one when we are out walking with him in his carrier.



To find out more about Greg, Alice, Etta & Ezra's journey across the globe, follow them over on @london_dad and The London Dad!