Inspiring Lives 06: Expert Annabel Karmel talks baby nutrition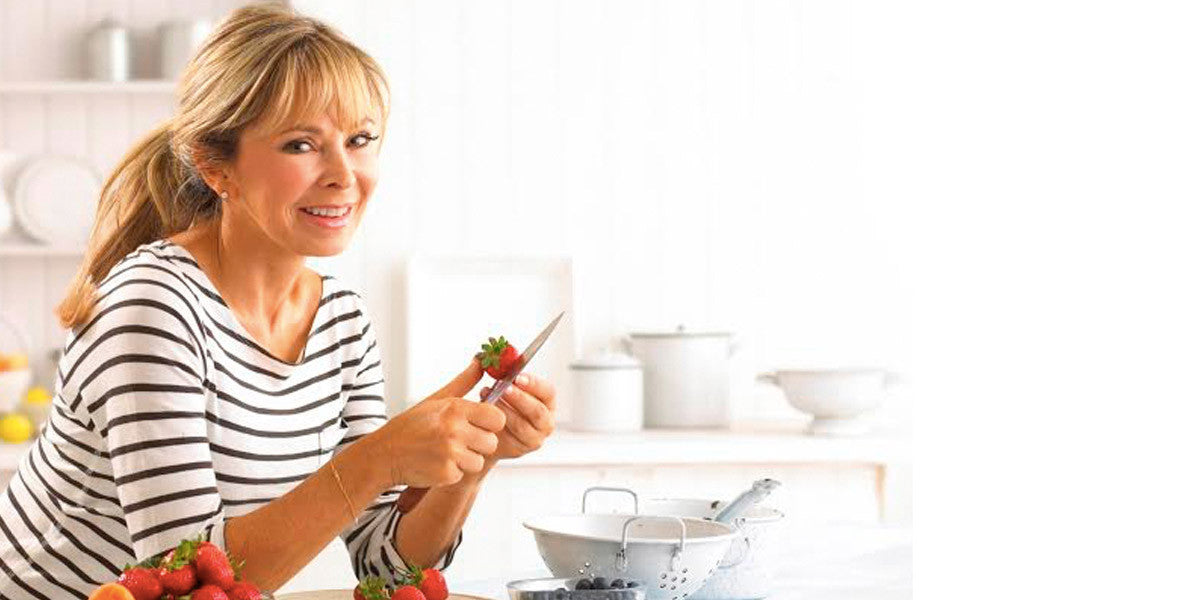 Mother of three, Annabel Karmel MBE is the UK's number one parenting author, best-selling international author, and expert on devising delicious, nutritious meals for babies and children.
Since writing her first book 25 years ago, Annabel has written 40 books, which have sold over four million copies worldwide, covering every stage of a child's development. We were lucky enough to catch up with her to hear more about her journey and hear some useful advice for new mums or mums-to-be.
Firstly, tell us a little bit about your journey and inspiration to becoming the UK's most trusted expert on child nutrition and to write your first cookbook on feeding babies.
I set out to work with children and make a difference when my daughter Natasha died. She was born healthy but died at 13-weeks-old from a viral infection that led me to change direction into the field of nutrition. It wasn't a diet-related illness that led to my daughter's death but I just felt I wanted to give my next child, Nicholas, the very best start in life. I was making up recipes as Nicholas was a terribly fussy eater. I ran a playgroup in St John's Wood called 'Babes in the Wood' and every week I shared the recipes that Nicholas enjoyed with the other mums and every week they would ask for more recipes. Then after a few months the mums said to me that I should write a book as the recipes were so good and their children loved them. At first I wasn't sure but then I thought that it would be a wonderful legacy to Natasha to give some meaning to her short life. It took me 2 years to write the book and it was published in 1991. I worked with the Institute of Child Health the research arm of Great Ormond Street to make sure that all the advice in the book was based on proper scientific research. There was a lot of conflicting advice out there for parents which was confusing and not always correct. This month we have just published the 25th Anniversary edition with lots of new recipes and photos. The book has sold over 4 million copies.

How has the way babies are fed changed since you wrote your first cookbook?


When I started writing my first book everyone told me that babies only liked bland food but when I put that to the test I found that they liked flavour and so I added herbs, garlic, and mild spices as you can't add salt and I think baby food recipes now are more adventurous in their flavours. I make mild curries and tagines for babies for example. Also when I wrote my first book 25 years ago parents were giving babies only fruit and vegetables for too long but now we realise that it's important to move onto proteins like fish, chicken and meat at around six months as babies need nutrients like iron and essential fatty acids . I worked with Great Ormond Street and the Institute of Child Health to make sure that everything in the book was based on scientific research.

For health conscious mums who still don't want to over use sugar and salt (or don't want to use it at all), how would you recommend they come up with healthy recipes, which are still tasty?

I combine savoury foods like chicken with fruits like apple or grapes, and I combine beef casseroles with herbs like cumin and maybe some dried apricot. There are lots of ways to add flavour without adding salt. You can add a little cheese to a baby's puree. In fact babies need proportionately more fat than adults in their diet so nutrient dense foods like cheese are good.

Mums are always wondering if their child is eating enough. At least with bottles it's clear that they are taking in a certain number of ounces. Do you have any advice on this?
Babies tend to eat what they need and provided they are within the guidelines of the centile chart they should be fine. As with adults their metabolisms are all different so some babies will need more food than others and sometimes they have growth spurts where they are more hungry. A baby grows more rapidly in their first year than at any other time in their life and their growth rate slows down towards the end of their first year so don't be surprised if their appetite slows down too and they become fussier. Also as they become more mobile they often become independent and prefer to feed themselves.

What advice would you give to mums whose child is a fussy eater?

Try to ignore bad eating habits and focus on good ones instead, so heap your child with praise when they try something new or eat well and if you don't give attention to refusing food they are less likely to play up at mealtimes. I think we all start off with good intentions but sometimes parents get worn down into giving just a very narrow repertoire of foods that they know their child enjoys like chicken nuggets, pizza, pasta etc… The problem is that the more you pander to your child, the more extremely fussy they tend to become. Sometimes it's not a bad thing if they miss a meal to break the pattern and get them to try something new, as a hungry child is a less fussy child and some children just never feel hungry as they are always given snacks or junk food.

You now make baby food and ready meals that we can find in supermarkets today. How did this come about?


I was asked by Marks and Spencer to help create a range of chilled foods for children back in 2000 and I worked with them for about 18 months. I then worked for 2 years with Boots to create a range of baby foods and equipment for making baby food that was co-branded. Both these ranges were successful and it gave me the confidence to create my own range of chilled toddler meals based on some of my most popular recipes that are now sold in Tesco, Sainsbury's and on Ocado. We also have a range of baby pouches in Lidl and on Ocado and a range of co-branded snacks with Disney.

We're so inspired by your business' success. How have you juggled running your business with raising a family?

I chose writing as it was something I could do whilst being at home raising my children and it took me 17 years before I started to create food ranges. Having lost my first child I wanted to be a hands-on mother. Once they were all at school I developed the product side of my business. Yes, you do have to make some sacrifices but now I reap the rewards because my daughter Lara works with me and my team and she loves it and I see her every day in the office.
Is this what inspired you to write a business book for mums?


It was hard for me to get started and I was turned down by every publisher that I approached. I have learned a lot on my journey and I wanted to write a practical guide to help mothers like me who wanted to set up their own business from home. I think everyone should be able to fulfil their passion

What has been your proudest moment in your business?
I was given an MBE by the Queen in 2006 for my services to child nutrition

What's next for you and your brand?

We are a launching a brand new website in July which is very exciting. About 4.5 million people come to our website and we want to grow this. We are launching in China – I have two books in Chinese and we are launching a baby food range there. We are also launching some delicious new meals in our toddler range in supermarkets. Our Baby and Toddler Feeding App is also very popular and we are launching a new app in November.

You can find out more about Annabel, view her recipes or purchase her books and food on her website. You can also find her on Facebook or Instagram.