10 questions with Baby Sleep Consultant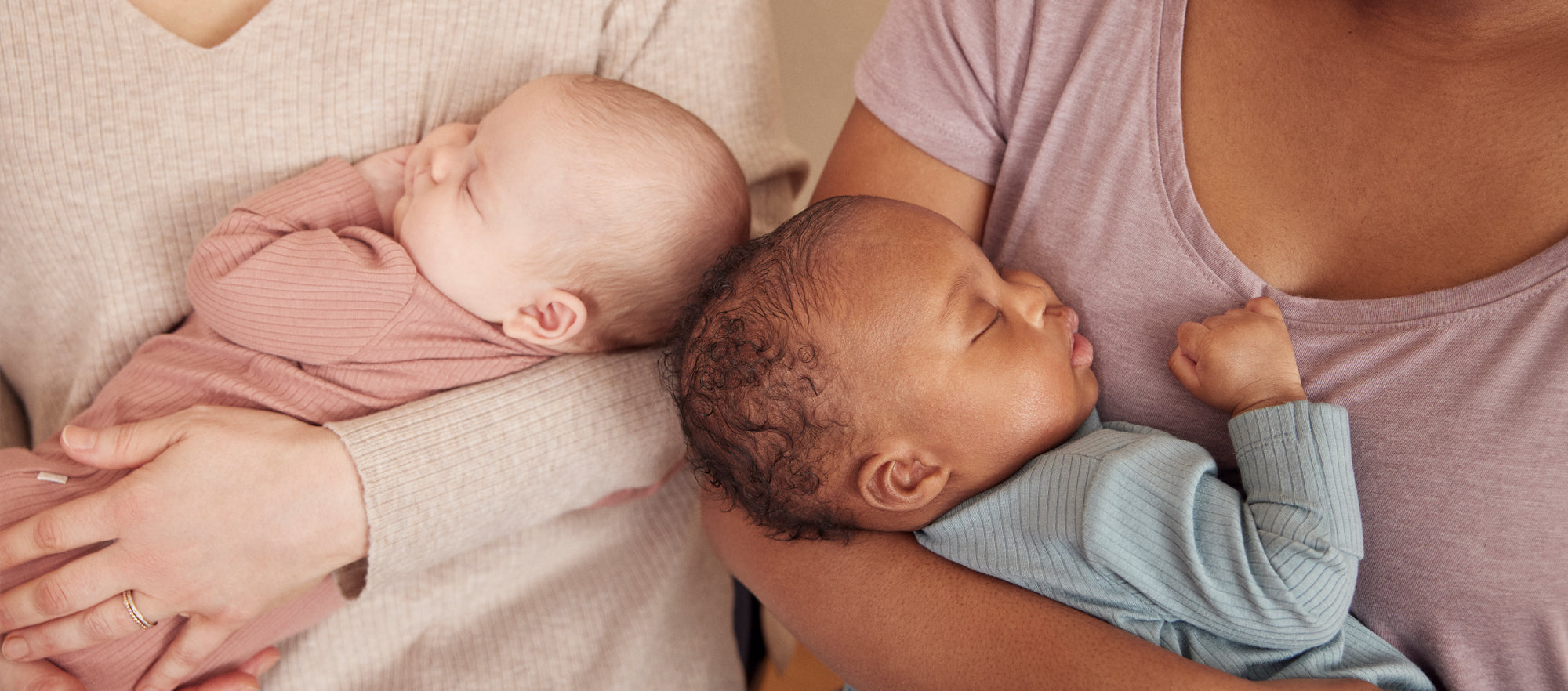 Babies wearing Ribbed Zip-Up Sleepsuit
Paediatric Sleep Consultant, Talya from Bonded By Babies, runs an Instagram with her sister in law Sophie. Together they cover all things mum related, including hacks, tips, fashion and weekly sleep Q&As. Talya decided to train to become a Sleep Consultant when her first baby didn't sleep through the night until she was 10 months old and she found herself in a state of desperation. After seeking help to get more sleep, Talya found she had a genuine interest in the science and importance of sleep, and now thrives off giving parents their sleep back. 
We asked our community what help and advice they needed when it came to their little one's sleep, we've compiled the questions below.
What are your recommendations when a baby doesn't like to nap in the crib?
There's absolutely nothing to suggest a baby 'must' nap in their cot. Buggy/car naps are completely fine and totally restorative. If you find trying to get your baby to nap in their cot is proving to be stressful, I always say to my clients 'abort mission'. Start again. Try the buggy. Take them in the car. They won't need a nap forever so for now, do whatever works for you!
Our Clever Sleeping Bag will keep your baby or toddler comfortable and snug through any season. To make parenting simpler, we have added a pushchair belt opening feature so your little one can sleep undisturbed even when you travel.
My 7 month baby wakes up around 4am and happily chats away to herself. She only manages short naps in 30-minute blocks! What advice do you have?
Ahh, that must be challenging! This is usually a sign that there needs to be a tweak to the routine. Make sure to check your baby isn't hungry, a night feed may be necessary at this stage. For a 7pm bedtime, ensure your baby is awake by 5pm at the latest. 
Please can I have help with getting back to a normal sleep routine after illness?
Yes, this is sometimes a struggle. Not to worry though, not sleeping through after illness is usually a short-lived phase. There may be a little bit of separation anxiety therefore some support during the night might be necessary but generally speaking, if they were sleeping through prior to an illness, they will go back to sleeping through soon after too.
What tips do you have for getting a toddler to sleep on a flight?
Getting your baby to sleep on a long haul flight usually isn't as challenging as you think it might be. My number one tip is to make sure you pack their sleeping bag in your hand luggage, along with any comforter or teether your baby may be attached to. Timing the nap well is also important - try and make sure they aren't undertired or overtired (easier said than done, I know!). Don't stress! The sound of the plane gives off white noise naturally and that combined with a sleeping bag and comforter should help.
Discover our super soft and organic sleepsuits, each piece is designed to give little ones the sweetest dreams every night.
My 13-month-old baby goes to bed at 7pm, how do I stop her from wanting a bottle at 5am in the morning?
You'll need to check it's not genuine hunger and I'd reduce the number of ounces you're offering by 1 ounce every other day.
My 7-month-old doesn't want to nap during the day for more than 30 mins, but he will sleep 6.30pm-6am. What can I do to increase daytime naps?
That's brilliant! Assuming you mean 30 minutes at a time, as opposed to 30 minutes in total. Your baby is doing so well at night, so I wouldn't worry!
My baby is 16 weeks old. I still feed him to sleep as that is what works! Should I be moving away from that method now?
Absolutely not! The only reason to come away from that method is that it's no longer working for you. There is nothing wrong with feeding to sleep. It's a natural response and one that works for many clients of mine.
Babies wearing Ribbed Zip-Up Sleepsuit
My 9-month-old has always been an active sleeper. Kicking and turning all night while asleep, and now this behaviour wakes him up. Any advice on how to make him stop?
Unfortunately, this is something some children do, there's not much we can do to stop this. A sleeping bag can sometimes help and check your baby's awake windows to ensure they have the correct build-up of sleep pressure to help them sleep at night.
What can I do when my 6-month-old only naps for 30 minutes at a time?
Napping for 30 minutes at 6 months old is very normal, and can be completely restorative. Go more by how your baby wakes - have they woken up happy and settled? Or have they woken up crying and rubbing their eyes and still visibly tired? If the latter, I'd suggest using a nap extending technique. You can resettle your baby by putting their dummy back in, offering a cuddle, or pushing the buggy to get them back to sleep.
Why is my 22 month old suddenly waking before 6am, when she has always been waking around 7am?
If your baby is waking up happy and chatting at 6am, it suggests you'll need to reduce their nap. But 11 hours of sleep at night is brilliant for a 22-month-old baby.
Discover our collection of organic baby clothes, all crafted in the softest fabrics to help little ones sleep better every night. Our swaddles & sleeping bags are thoughtfully crafted in our signature organic cotton and bamboo fabric to ensure your little one has the softest fabrics on their skin.
Join our community @babymoriofficial Share your motherhood journey & #MORImoments with us #iamaMORImama