How to keep your baby cool as the warmer months approach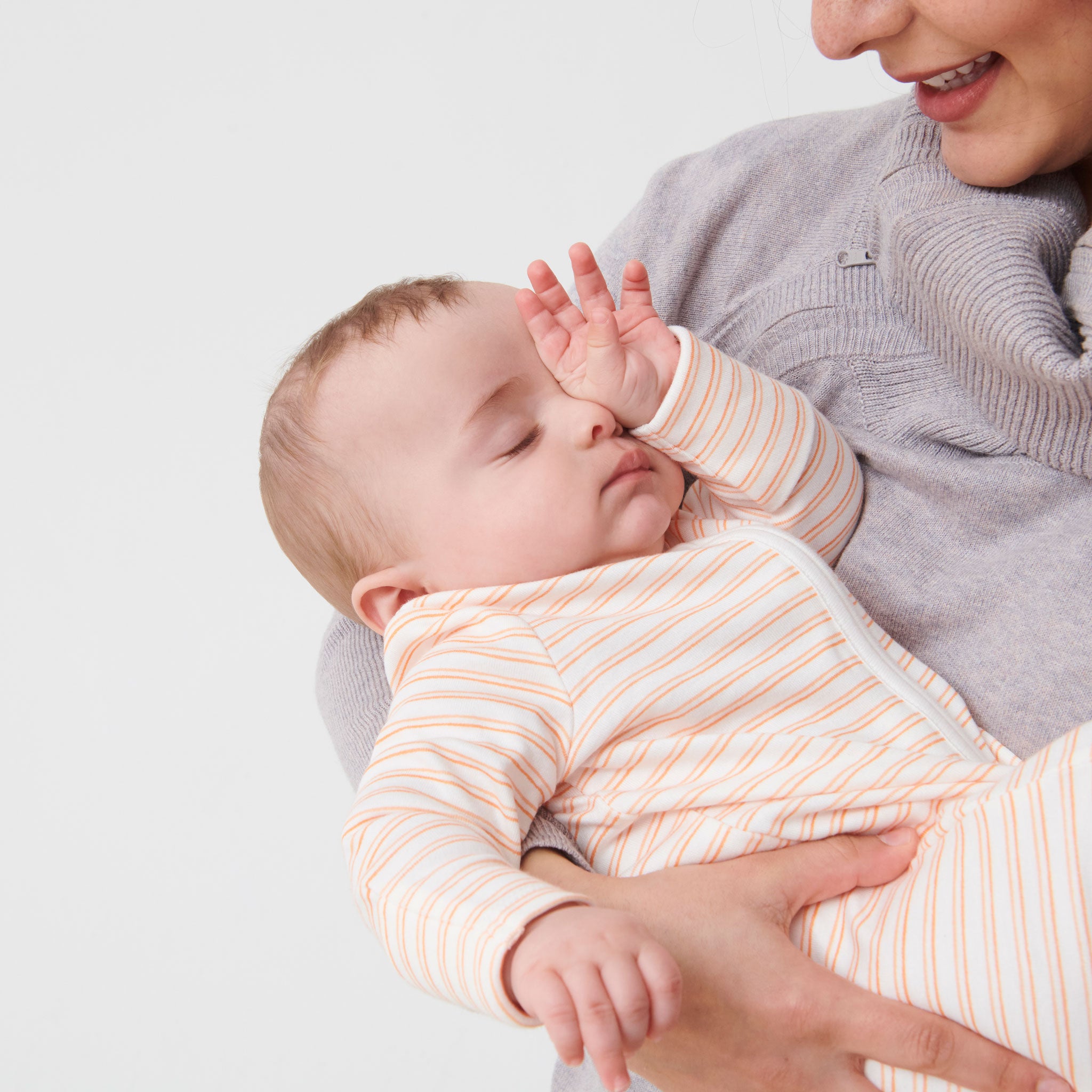 Remember when summer used to involve carefree days sunbathing by the pool or sitting in pub gardens with friends, but now, as a new parent, it's all about keeping your baby cool & safe in the heat. In this blog, you'll find advice on how to keep them comfortable during spring and summer. 
Why it's important to regulate your baby's body temperature
Young babies are not capable of regulating their temperatures like adults. This is why you'll notice they often have cold hands and feet, even when covered or perspire when it's not that hot. Only at around 18 months - 2 years do babies really start to regulate their temperatures naturally, but they are still more sensitive to changes in temperature than us. 
How to keep your baby's room cool
It can be difficult to know how to regulate their room temperature, especially if they're sleeping in the same room as you. You should start thinking about creating a cool sleep environment throughout the day by closing the blinds or curtains whilst the windows are still open when the sun is up and using a fan to circulate the air. If you're using a fan throughout the night, face it away from the cot. Fans can also act as white noise to help them get to sleep. 
How to keep your baby cool whilst feeding
During the summer, babies often drink at least 50% more than usual, so you will need to bottle or breastfeed more often. But, as you know, when it's hot, the last thing we feel like doing is being close to somebody else, and babies feel exactly the same. That's why it can be so hard to get them to breastfeed during summer. A muslin, blanket or towel placed between your skin and your babies can be helpful - you can even dampen it with water for a refreshing feel. Lying down to feed may also be more comfortable for both of you as it means only the baby's mouth and your breast are making contact. 
You can also make lollies from breastmilk or formula as an extra way to get liquids and nutrients into your little one if they're fussy when feeding. 
How to keep your baby cool in their car seat
If you're travelling for a mini-break or to the beach for the day, keeping your little one cool in the car is also crucial. Similar to in their bedroom, have a sun protector on their window, have them in lightweight clothing and make sure the temperature of the car is being regulated. 
How to keep your baby cool when outside
Whilst out and about, it's important to not cover the front of your baby's pram to protect them from the sun as it can stop the airflow. Instead, use the in-built shade or a specialised parasol and avoid going out in the hottest parts of the day. 
Babies under 6 months should not wear suncream due to their sensitive and delicate skin - there are some creams that are designed especially for newborns if you have to take them out when it's sunny. However, newborns shouldn't be exposed to the sun's rays at all so try and avoid this for the first 6 months and find adequate shade whenever you're outside. 
How to cool down a baby
It's important to regularly check your baby's temperature by placing a hand on their back/neck area. If your little one feels too hot or is sweating, you should remove or open their clothing. You can also use a cool, damp cloth to gently wipe their head and neck. If you're playing at home, a paddling pool in a shaded area of the garden is a great idea to keep them both cool and entertained. A lukewarm bath before bed can also regulate their temperature which will help them sleep better. 
Babies and children are more prone to developing prickly heat (an itchy rash of small, raised spots), creams with zinc or castor oil will help protect the skin and you should also change their clothing more often and give them tepid baths.  
Give them the sweetest dreams whatever the weather with our sleeping bags