Inspiring Lives 04: Elle Rowley talks Solly Baby & motherhood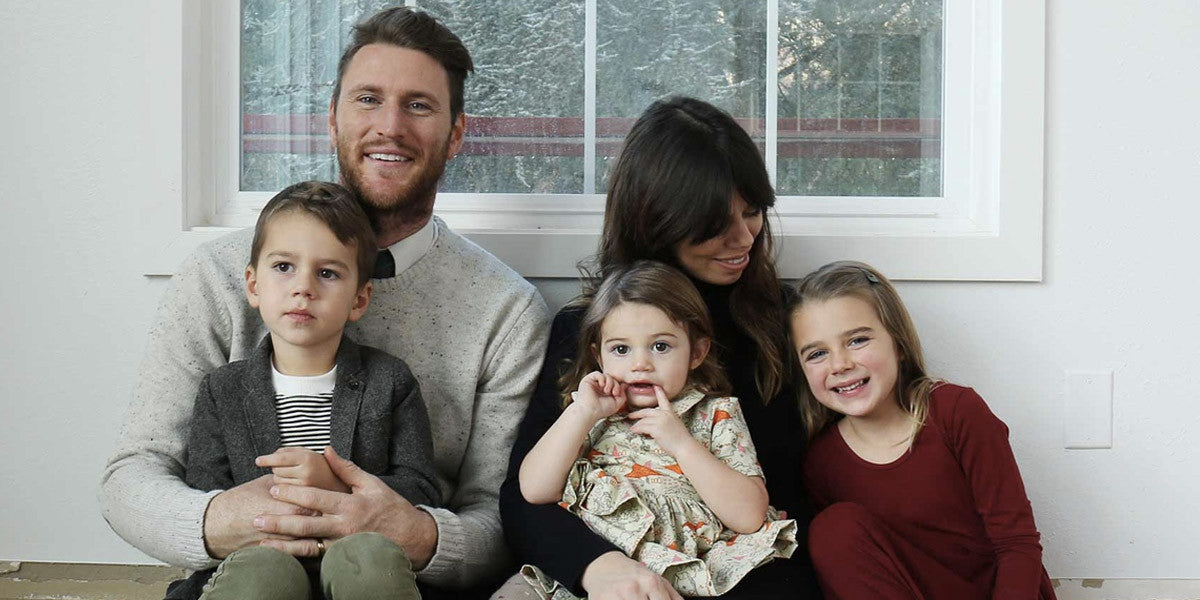 We're always excited when we come across inspiring parents doing amazing things, and we were lucky enough to catch up with Elle Rowley from Solly Baby.
Mum to three, a Great Dane puppy, two cats, chickens, and four baby goats. Plus, she's a successful business owner since she sat down to sew a wrap for her newborn son, which led to  Solly Baby – a million dollar business which she runs from her home in Californi.

Tell us a little bit about you and your family.


I met and married (really, it was pretty much that fast) my husband, Jared, almost ten years ago in Utah while we were in school and we now have three little ones (Lucy, 7; Solomon, 5; Frances, 2). I started a wrap style baby carrier company five years ago and with its growth, Jared came on as our CFO several years ago. We have spent most of our time in California, but bought a farm in Oregon last fall and have been renovating our house and learning about how to take care of our Great Dane puppy, two cats, chickens, and four baby goats ever since.


So, how did you come up with the Solly Baby wrap and what inspired you to turn it into a business?



I was sewing and blogging back in 2010 when I made my first wrap for our second baby on the way in Salt Lake City, Utah. Having never used another stretchy wrap, I didn't know I'd done anything differently until other friends started telling me that it was so lightweight and comfortable, asking me to make one for them as well. I did and then thought maybe I was on to something. When Solomon was born and I started using the wrap, I fell in love with the experience. I started tweaking the design and the fabrics until I found something that was perfect. I couldn't wait to share it with other parents. Being really heavily inundated on social media already, I launched our business there and was shocked by its success. We've had a lot of highs and lows over the years, but it's been an amazing journey.

What do you love most about your job and what's been your biggest achievement so far?



I love that our product helps parents. Parenting is by far the hardest thing I've ever done (and the most rewarding, of course) so to know that our product makes a dramatic difference in the lives of mothers and fathers, is endlessly rewarding for me. Every time I get an email from someone or meet someone who says that their wrap "saved them", I feel like I won the lottery.

What's been your biggest challenge running Solly Baby?

Oh goodness, because I don't have a business background, every part of it has brought with it a major learning curve. Also, making decisions that sometimes slow the growth of the business, but are in the best interest of my family is never easy, but I never regret them.


We love that you donate $1 for every wrap purchased to support Every Mother Counts. Tell us a little bit about your motivation to do this?

As soon as Solly Baby started making money, I knew I wanted to bring on a charity component to our business. I wanted a charity that aligned with our brand and I loved the idea of a mother's purchase also helping other mothers. I googled something about maternal health and charity and Christy Turlington Burns' documentary "No Woman, No Cry" popped up, with her talking about the experience of women around the world giving birth. Every two minutes a woman dies due to a childbirth related cause, 99% of which are preventable. That statistic is so horrific to me. As soon as I watched the clip, I was in tears and shaking. I knew that this was Solly Baby's charity. I knew that whatever success Solly Baby had, it was in part so we could support Every Mother Counts. Every time it's been financially difficult as a growing company to write that check, I remember that statistic.

You also source your materials in the USA and work with American factories, fabric mills, dye houses, and printers. Tell us a little bit about why you've kept production local?

Part of it is personal philosophy and part of it is because I'm a bit of a control freak. I love being able to easily see every part of the production process. I also love developing good relationships, which is so much easier to do when you're working locally. It's just so much more satisfying to work with people you know.

If you could give one piece of advice to other parents wanting to start a business, what would it be?

Make sure you really add value. Don't just make a product for the sake of making something. Do something that truly adds value to your customer's lives. I get pretty tired of seeing new businesses that are just poor copies of someone else's business or gimmicky type products that is all in the marketing. And I am so inspired by products that are truly innovative and give the customer a real experience.

What's next for you and Solly Baby?

I feel like we are at a good spot where we are just trying to do what we do already, just better. I love the refining part of the process where we can really try to make things perfect. Our customers deserve to continually be given better and more and we are excited to give that to them.