Transform Bath Time With a Hooded Baby Towel
transform bath time with a hooded baby towel

The most blissful bath time ever, created by this simple parenting essential.
Before having a baby, towels are something you don't put too much thought into buying. However, once little one arrives you need to make sure you're ensuring they're safe & comfortable so finding the perfect towel is important. Hooded bath towels are designed to regulate body temperature to keep baby happy so they fall asleep quickly, giving you time to relax after a long day.
---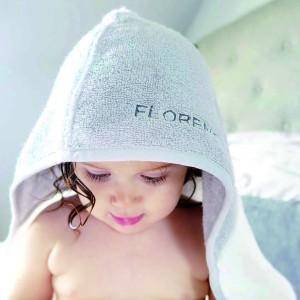 1.Temperature Regulating Hood

The feature that makes hooded baby towels an essential for all mums-to-be and new mums is the hood design. Not only do they look lovely, they also make sure your little one is safe and stays healthy after bathing.

Regulating baby's temperature is not only vital, but it's also not as easy as you would think. You've just taken little one out the bath, which means they're going to get cold quite soon, so you need them be dry and warm as soon as possible. As heat is lost through the head instantaneously, a hood is the ideal way to keep your baby at a safe temperature after bath time and during bed time. You'll have peace of mind and will be able to unwind at the end of a busy day.
2. Baby Feels Secure

Newborns have just been welcomed into the world, so they need to feel secure at all times to be comfortable and content. Replicating the feeling of being inside the womb is a tried & tested way to make sure they're happy, which you can do by snugly wrapping your little one up in a hooded towel. Experts have confirmed that babies are generally more placid if they feel reassured from similar womb feelings.
---
3. You'll Both Sleep Easier

With a hooded towel you can cocoon them from head to toe to keep them feeling relaxed and restful. They're an essential for every mum as they make looking after little one simple & give you the knowledge that you'll be sleeping sooner rather than later. Sleeping well helps to promote better relationships between mum, baby and the rest of the family, which is so important to development.
---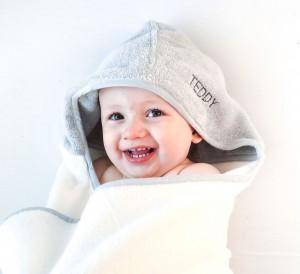 4. Protects Little One's Skin

When choosing a baby bath towel for your newborn, you should always decide on one crafted from natural & pure materials as their skin is very delicate and sensitive. Bacteria can be transferred easily, but with fabrics such as micro-cotton, they aren't harboured like other materials so it is much safer for little one. Micro-cotton is also more sustainable, meaning it helps to protect the planet too.
5. Absorbs and Dries Quickly

As we already mentioned (but it really is super important) you must always keep baby's head dry & warm, so micro-cotton truly is the perfect fabric for a baby towel. By absorbing 250x more moisture and drying in half the time than towels made from normal cotton, you'll know that baby will be feeling fresh in the fastest time.

Whether you're a mum-to-be or a first-time mum, you can be safe in the knowledge that a hooded baby towel will be on your newborn essentials checklist. One step closer to feeling like the superhero your little one will always know you are!
---
---
---
Follow us on our social channels!
---
read more from the MORI journal
---