Our favourite baby & children's toys from Jellycat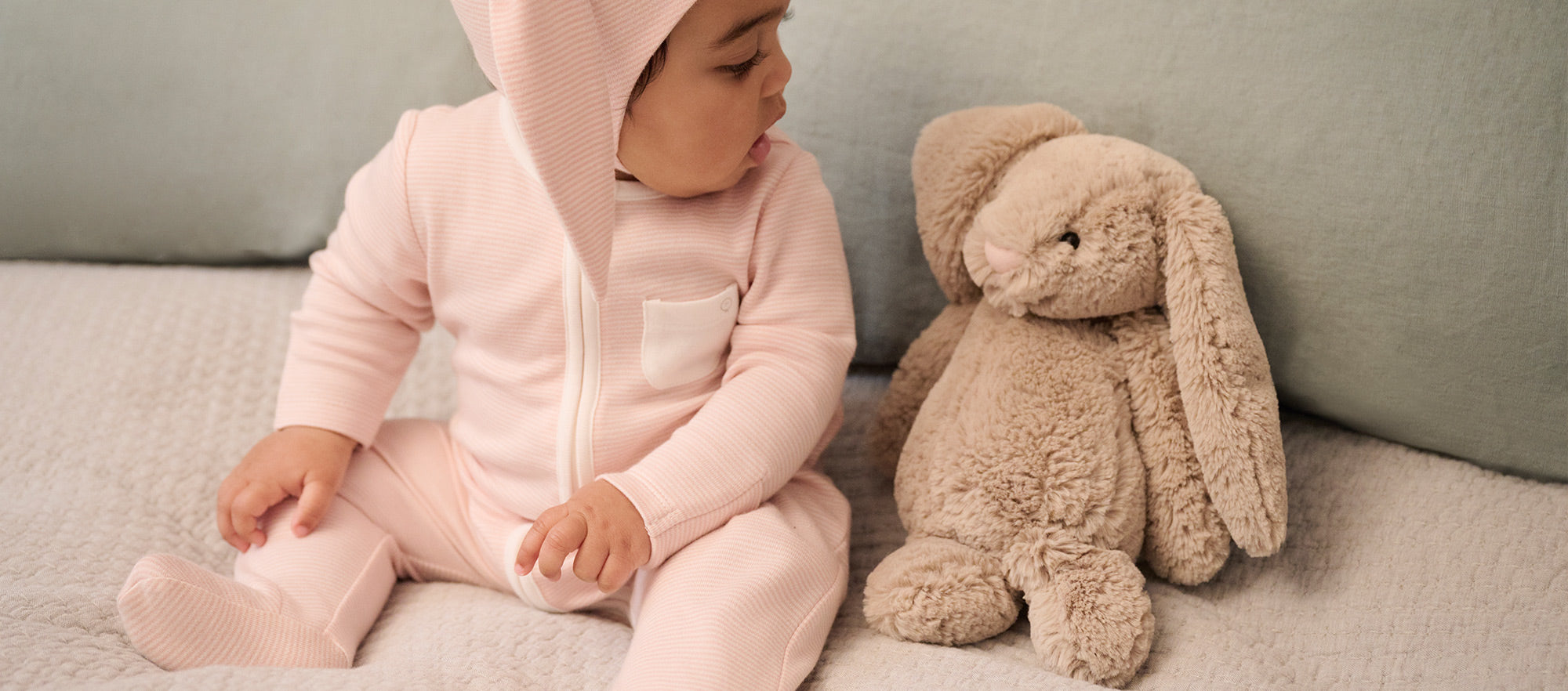 Soft toys are such an important part of growing up that people often remember their first cuddly companion, or maybe even still have them. Plenty of studies have shown that soft toys have an important effect on early development which is why they make such popular baby shower & newborn gifts. Beloved brand Jellycat has been creating their much-loved toys in London since 1999, so we're incredibly happy they've become a MORI friends partner & we'd love to show you what they offer*.
Soft toys suitable from birth
Soft toys are wonderful for comforting and soothing a baby by providing a sense of warmth and familiarity. Little ones will often nuzzle and suck on their cuddly companions so it's important early choices are designed to be well-loved, washed and with no small parts. You'll find snuggly options like Smudge Elephant  & Huggady Hippo or the firm favourite Bashful Bunny. Jellycat also create supersoft soothers which make wonderful baby shower or newborn gifts. Discover the friendly faced Daisy Soother & Octopus Soother which looks great in an underwater themed nursery.
They can help promote sensory stimulation and development in little ones as they begin to recognise shapes, colours, textures & faces. Choose toys with different features for them to explore such as the Jellycat caterpillar, crab or lobster.
Soft toys perfect for toddlers & children
Soft toys are an amazing way to help little ones develop their language and communication skills. Toys like the Amusable Rainbow helps to teach colours or pick their cuddly pet based on their favourite animal. Check out the bestselling Bashful Lion for little wild ones, a Huggedy Hippo perfect for naptime or take a dive with Wilbur Whale.
Activity toys to encourage learning through play
As well as cuddly friends, Jellycat design toys that encourage little ones to be curious whilst teaching them invaluable skills. Their activity toys, such as the Cordy Roy Dino, are the perfect size for little hands to grasp with different textures and sounds to keep children occupied. 
Books little ones will love
Bring their bedtime stories to life with a Jellycat book. Soft books are perfect for babies from birth and have different textures & sounds for them to explore - plus they're safe to chew on. A board book is ideal for when they get a little older and want to hold the book themselves, they're durable and lightweight with simple stories inside. Jellycat board books introduce plenty of characters from dinosaurs, to elephants and even dragons so little ones can read about what they love. 
*Please note our selection is constantly being updated & changing, but the featured products are a good indication of what you'll find on our website.