4 families share their love stories for our Valentine's collection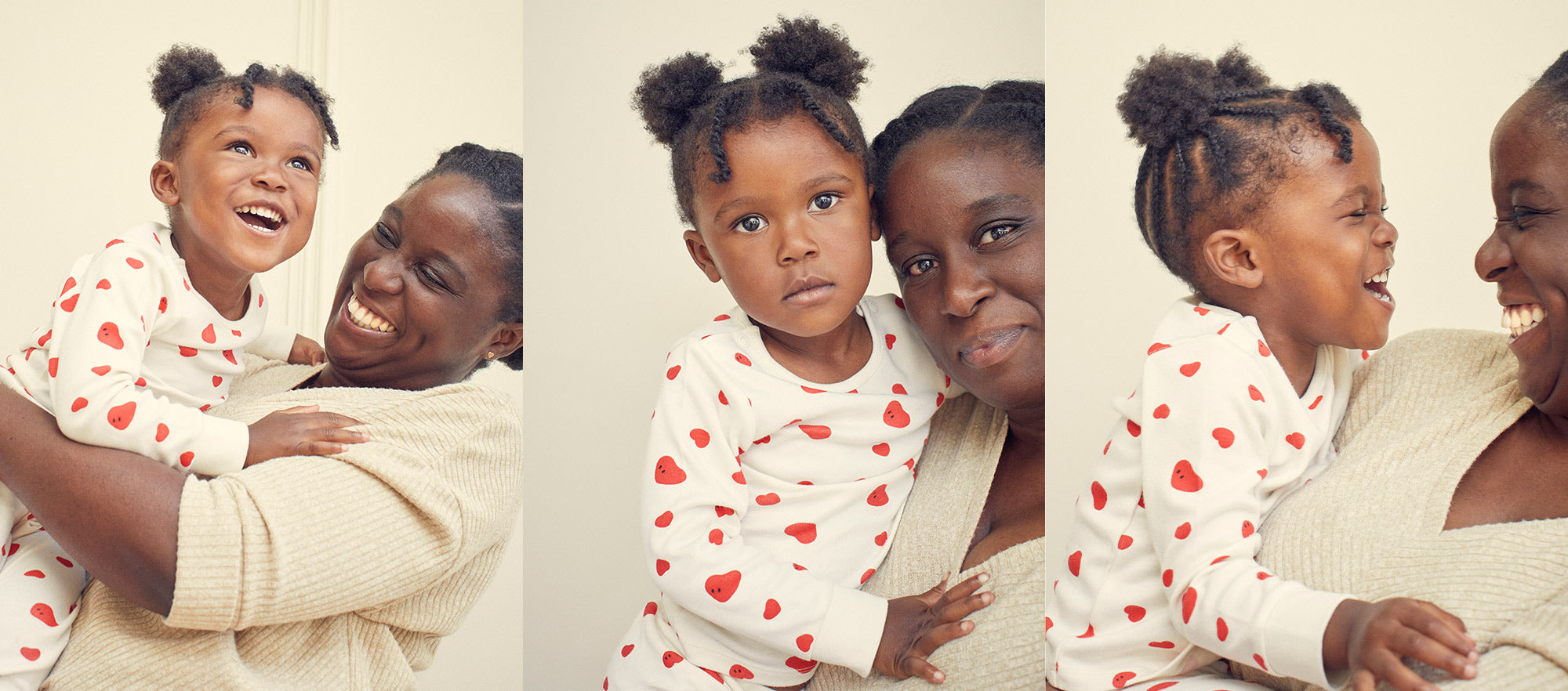 This soft signature fabric collection inspires us to look ahead with love and find joy, even in the challenging moments. For our Little Love campaign, we invited our amazing community to share their love stories to becoming parents & love notes to their little ones.
Meet the families
Vanessa & Ariella
Tell us about your motherhood journey
My journey to becoming a mum was relatively straightforward. I had a planned pregnancy, which went ok. However, the post-natal period was difficult as I had some depression and my husband and I separated. Although it was a struggle, I made it through and got my silver lining, my little girl. I would do it all over again for her.
The love story between you & Ariella
Ariella is my perfect love story; we are not perfect, but our love is. I call her my shadow, we are rarely apart, I sacrificed and decided to work part-time to spend as much time with her as possible in these formative years, subsequently, our bond is unbreakable. A day doesn't go past without her making me smile or laugh. We never let a day go past without saying 'I love you' to each other.  She has changed my life for the good. 
The figures of love, support & inspiration in your life
My biggest inspiration is my late mum, she was the most loving person, even in difficult situations she always had a smile and an encouraging word, words that still help me today. Being a single mum, my support network is not big but I'm grateful for everyone in my life, and for life itself.
A message of love for your daughter
You are full of potential and can achieve anything thing you want to. The world is waiting for you, your uniqueness is your strength.
Ariella wears the
Gaby, Shun, Sloan & Rothko

Tell us a little about your love story
We've been together 10 years & our start was an exciting one! We met playing Tag rugby for England before your Shun's visa expired. Thankfully, he was allowed to return on an entrepreneur visa and we fell in love during a trip to Tuscany. 
What was your journey to parenthood like?
After we got married, we knew we wanted to begin our family, but had a tricky start. Following two miscarriages, our first little one Sloan was born. She arrived on St Paddy's Day via an emergency c-section. We had Rothko 22 months later, convinced he would be a girl. When he was raised above the sheets Lion King style at our elective section, we saw he was a boy and knew our family was complete.
The bond between siblings
Rothko absolutely worships the ground Sloan walks on. It is so lovely watching them both grow and develop their relationship together - we love hearing the two of them laugh.
A message of love for your children
Life is short so make sure you enjoy every moment, mama and papa x
Rothko wears the
Love Is Kind Slogan Sweatshirt
Emma, Aston, Kairo-Shai & Na'le-James
Tell us a little about your love story & journey to parenthood
My partner & I had an office romance that blossomed. I was a stepmom for 7 years to Kairo-Shai before my biological son Na'le-James arrived. The year before Na'le-James was born was tense & busy due to illness, he was a surprise pregnancy but the greatest reward after a tough time. We're so glad he chose us.
The bond between siblings
It's so beautiful to watch Na'le-James and Kairo-Shai develop their bond. It's one that's built on love, laughter and the sweetest kisses goodnight!
Na'le-James wears the
Wizra & Momina (the youngest of 4 girls)
Tell us a little about your love story & journey to parenthood
When my partner & I met it was love at first sight. He came to pick up his sister (my friend) from university and the rest was history! After we'd been married for a year, I became pregnant with my first, she wasn't planned but we were over the moon when we found out & I felt complete as soon as I become a mother. 
The bond between siblings
Our four daughters are blessings from God, they've brought so much happiness. They're all best friends and adore one another, my eldest is like a little mum to her sisters and she loves it.