What should a baby wear to sleep in summer?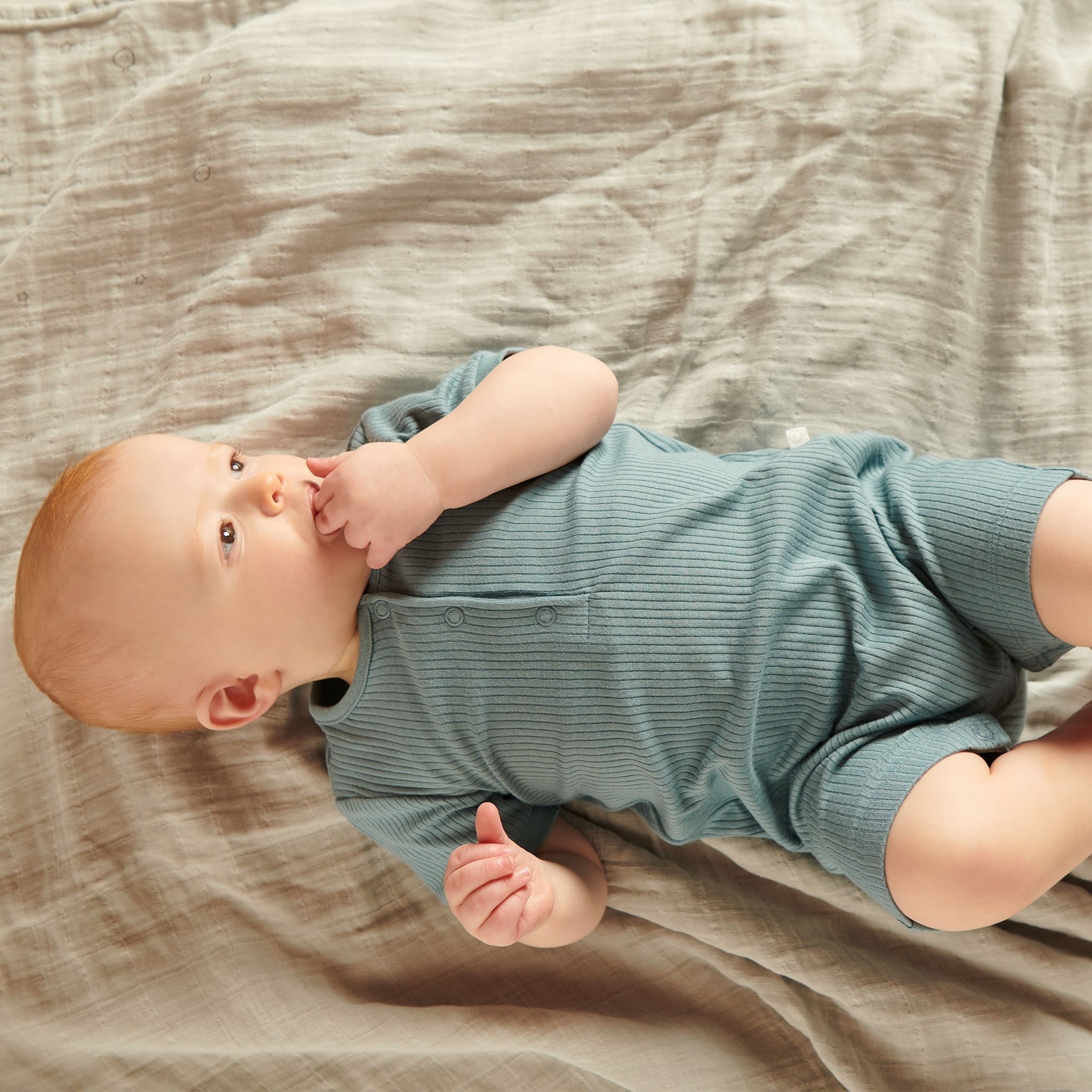 The question every parent finds themselves asking is 'how do I dress my baby in summer?'. A little tricky to answer as there is not one single right way to dress your little one to sleep on those warm nights. It all depends on the climate where you live if you have air conditioning or a fan as well as your baby's preferences. The most important factor to remember is to dress them based on the temperature of their room, not the outside. 
Here are a few other things to consider as you get your little one ready for bed on summer nights:
Dress baby in summer weight clothing materials
Choosing cool and breathable fabrics is the best way to ensure your little one doesn't overheat. All of our products are made from natural materials that are gentle on the skin. Our sleepwear is crafted in our organic cotton and bamboo signature fabric which is is naturally breathable, thermoregulating & moisture-wicking, keeping little ones at the perfect temperature all night.
Use lightweight layers

As babies have a limited ability to regulate their own temperature, a general rule of thumb is dressing them in one more layer than you'd wear in their room. A short-sleeved bodysuit or summer sleepsuit underneath a lightweight sleeping bag should keep them comfortable and safe through the night. If it's a particularly warm night then a footless sleepsuit or bodysuit on its own should be fine. Whilst adults love to be fully covered whilst we sleep (even if it's very warm out), babies don't mind having their toes or legs exposed in appropriate temperatures. 
If your little one's room has a fan or air conditioning, you need to be aware that their extremities can become cold. A baby's circulatory system concentrates on warming the chest, so dressing them in a long-sleeved sleepsuit or bodysuit can help combat the chill. 
Don't be tempted to overdress them 
It's always safer to be able to add layers, rather than putting your little one to sleep too warm. Even if your little one has cool fingers or toes, it doesn't mean they're too cold. The best way to measure their temperature if feeling the back of their neck or tummy; their skin should be cool and dry to the touch. If the neck or tummy is hot and sticky, baby is too warm.
Swaddling in summer
If your little one sleeps better swaddled, then make sure to choose a lightweight muslin fabric that's breathable. Our large and regular muslins are made from pure cotton which is perfect. You could also try a swaddle bag, which gives the same sensation of mimicking the womb but with a handy zip for quick nighttime changes. Again, a short-sleeved bodysuit or sleepsuit would be fine for layering, or even just a nappy if their room gets really warm. 
You'll need to check in on your little one frequently for the first few nights of warm weather until you have a good idea of what they're most comfortable wearing. If all their needs are being met and your baby is still fussy, their layers may need to be adapted. 
As with anything, new seasons have an adjustment period and it may be stressful trying to figure out the transition, but don't worry too much about the changes, you'll soon figure out how to help them sleep happily and safely. 
For more tips on keeping your little one cool, check out this post