The best sleepsuits for your baby this winter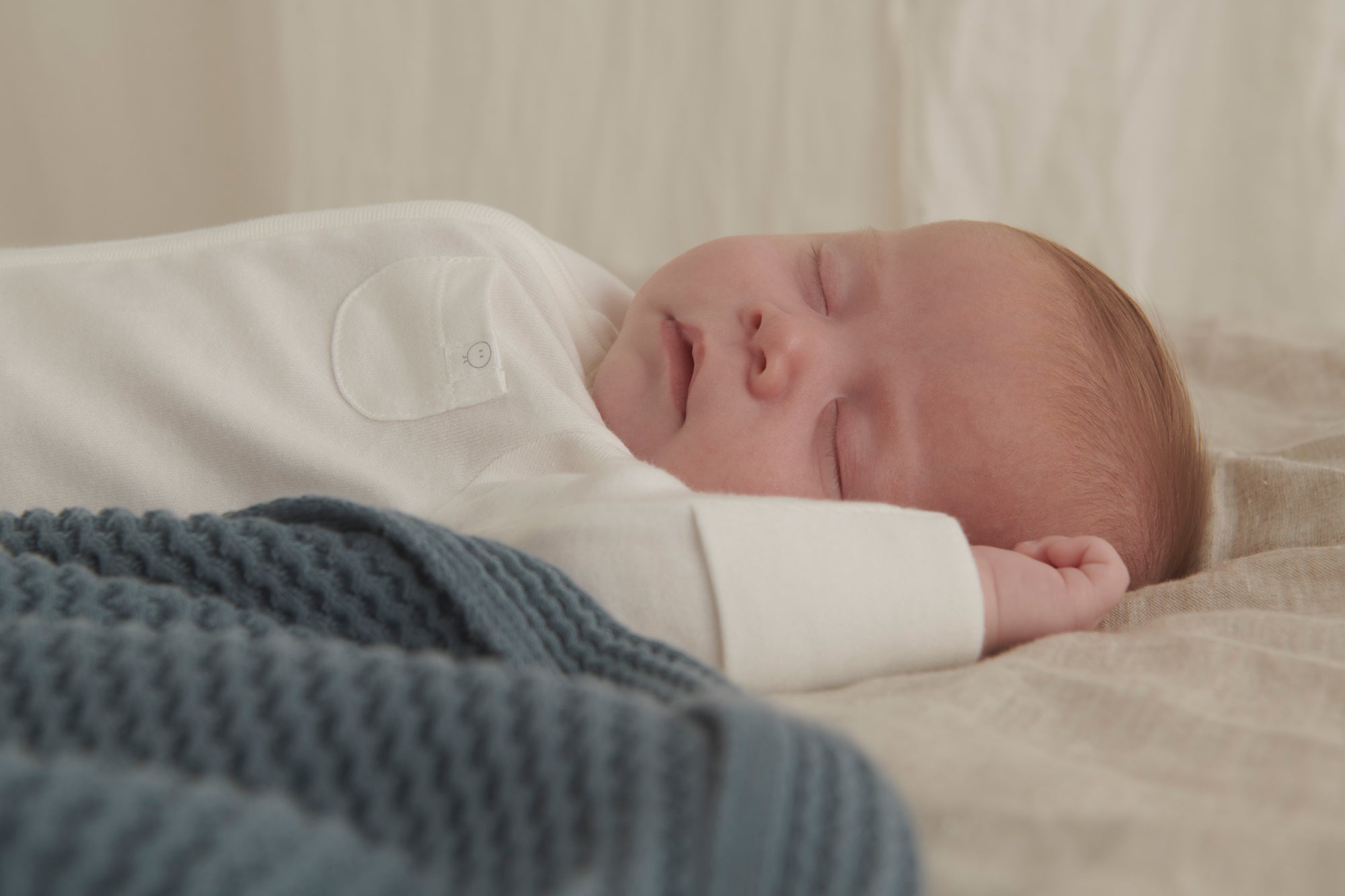 Getting babies to sleep soundly can be tricky, which is why choosing the right sleepwear for the season is so important. A perfect bedtime outfit will ensure your little one feels comfortable, soothed and at the correct temperature for a better night's sleep. 
Winter is the time when we love to hibernate indoors, spending those rainy days and long, dark evenings cuddled up on the sofa with our loved ones. It's also a challenging time of year to dress your child so that they're kept warm (but not too warm), especially at night. If you're feeling a little lost on this subject, we've got you covered.
Keeping your baby at the perfect temperature
The ideal room temperature for a little one throughout the year is around 20-21°C, but we know that's much harder to maintain safely during winter, so layers are your friend. The layer closest to their skin should be soft, breathable and thermoregulating, which is what makes our sleepsuits perfect.
All MORI sleepsuits are crafted in the softest, sustainable fabrics that have been specially chosen to be gentle on a little one's sensitive skin. Our core collections are crafted from a unique blend of organic cotton and bamboo making them incredibly comfortable for daytime naps or bedtime. If your house runs a little colder, our organic cotton velour sleepsuits are guaranteed to keep them feeling cosy and warm all night. 
Dressing a newborn baby in winter
For new parents, we have a large selection of newborn baby sleepsuits that come with feet to keep little toes warm and integral scratch mitts to protect from their nails. 
We know that all firsts with your little one are special, but there's something about Christmas that makes everything even more magical. If you love getting into the swing of the festive season, we've got a whole collection of Christmas sleepsuits for babies so they can look adorable whilst also being comfortable. Plus, if they have older siblings, you can dress them to match in our festive pyjamas. 
What makes our sleepsuits so special?
Our products are designed to simplify life for parents and carers and our bestselling sleepsuits are no exception. We've added innovative openings such as poppers from head to toe and our much-loved two-way zip for fuss-free dressing & changing. 
We use the highest quality natural fabrics in our sleepsuits, meaning they'll stay soft wash after wash. With thoughtful care, they can be worn, washed and passed on again & again.
Dress your baby in layers
The general rule of thumb is to dress your baby in one more layer than you're comfortable in. During winter, babies find it much harder to regulate their temperatures so it's important that their clothing assists them as much as possible. Sleeping bags are a great way to keep them warm whilst also preventing a little one from kicking off their covers in the night. 
Our award-winning Clever Sleeping Bag comes in three TOGs (2.5, 1.5 & 0.5) to be safely used in every season. For winter, we recommend using our thickest 2.5 TOG and layering a sleepsuit or pyjamas underneath. If you prefer swaddling, our organic cotton Waffle Blanket is a cosy option and can be used as a snuggly layer when they're older too.
Since you can't always be home for naptimes, it's just as important to dress your little one warmly and softly in their pushchair too. Our Pramsuits are lightly padded to guard against the elements, with a hood and mittens for extra warmth. They're designed with a handy zip down the front for quick and easy changes. 
For more tips on sleep, see the below journals
How to get your baby sleeping through the holidays
Meet our clever multi-TOG sleeping bag